Valenti Jewel LED Side Marker for GT86/BRZ
Valenti Jewel LED Side Marker
for Toyota GT86 & Subaru BRZ & Scion FRS
Sold with Swiss homologation*
The Valenti Jewel LED Side Marker for GT86 and BRZ
Now you can update the exterior of your vehicle in the latest in modern design along with improved lighting technology.
Hanshin-Imports carries a great selection of exterior components from Valenti to both customize and to add a modern look to your vehicle.
9 LEDs with high brightness on one side + hexagon reflector (hexagonal reflector) adopted to achieve high luminosity.
In addition, there are also jewel LED tail lamps for 86/BRZ and jewel LED back fog lamps that have the same color.
The kit is available in 3 colors, for a wide choice according to user preference and their car's body color.
High brightness LED - 18 LEDs!
Adopts 3/3 high-brightness LEDs on each side for a brilliant shine.
Three color variations allow coordination to match any car body color
The side marker color line-up includes three types: light smoke/black chrome, amber/chrome, and clear/chrome..
Easy to install!
Installation is intuitive with an easy to connect and disconnect system. Simply replace the marker lamp body.
Compatibility:
Model year
Model
remarks
Toyota: 86
Year: April 2012~
ZN6
Early model / latter model
Subaru: BRZ
Year: March 2012
ZC6
Early model / latter model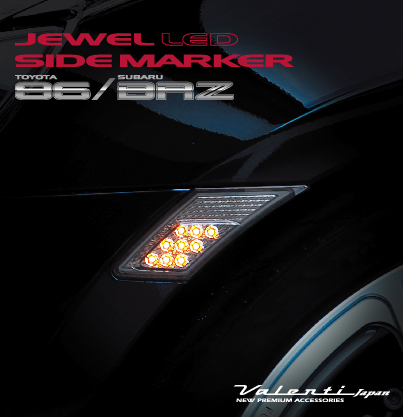 * Note regarding Homologation. Please provide car/chassis information in order to create the homologation.