Yokohama ADVAN Neova AD08RS
Yokohama ADVAN Neova AD08RS semi-slick tires
ADVAN NEOVA AD08RS
The "ADVAN NEOVA AD08RS", a street sports tyre.
A re-engineered version of the "ADVAN NEOVA AD08R", the "ADVAN NEOVA AD08RS" has been fine-tuned to meet Europe's ECE R117-02 S2WR2 regulation* and raise its environmental performance.
While keeping the tread pattern that earned the "ADVAN NEOVA AD08R" a strong reputation for excellent control in dry and wet conditions and superior abrasion resistance, the "ADVAN NEOVA AD08RS" uses a new compound that reduces rolling resistance.
The new tyre achieves an excellent handling and low fuel consumption that will fully satisfy driving enthusiasts craving for "speed & fun".
* ECE R117-02 is an international standard established in June 2010 by the UNECE (United Nations Economic Commission for Europe) that stipulates technical requirements for tyre noise, rolling resistance and wet grip performance.
very special with steel reinforcements at the flanks, thus maximizing rigidity during strong cornering support.
Applications
Club racers
Sport cars
Tuning
Benefits
Sporty feeling
The street-legal tyre complies with European standard for rolling resistance
Stability and fast response during high-speed driving
Faster than ever, from the 1st lap, keeping performance
More controllable than ever, excellent cornering force
Features
The fine-tuned compound for sportiness
Sequential Round Groove for long-life grip
Uni-block Shoulder for rigidity of the tread
Groove-in-Groove for even wear and stability
EU LABEL GRADE
Fuel Efficiency
D
Wet Grip
B - C
External Noise Class
B
External Noise Value (dB)
70 - 72
PATTERN DESIGN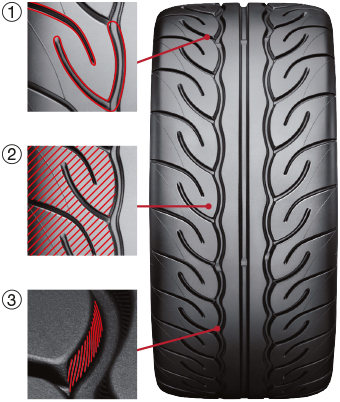 1) SEQUENTIAL ROUND GROOVE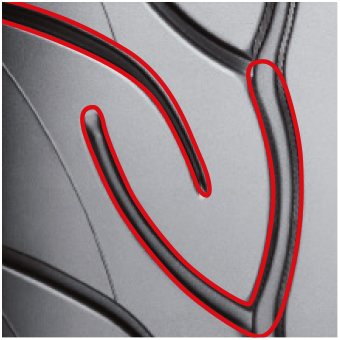 Forces from the road surface are spread and dissipated by the Round Grooves to improve the mileage.
The positioning of the Grooves is also effective in draining water on wet surfaces.
2) UNI-BLOCK SHOULDER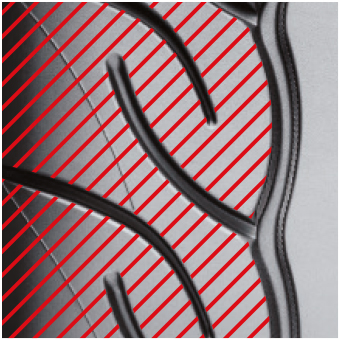 Using circumferentially continuous Single Shoulder Blocks without any gabs, rigidity at tread is increased, ensuring a powerful grip.
3) GROOVES-IN-GROOVES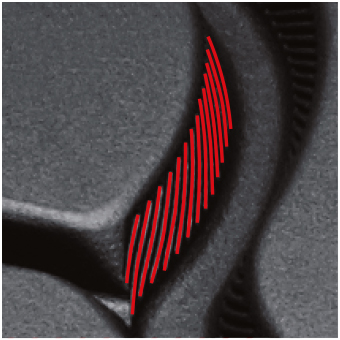 Micro Grooves on the Main Groove Walls ease the stress on each block edge, reducing uneven wear of the tyre and increasing stability when driving under harsh conditions.
IMPORTANT CARE AND USAGE INSTRUCTIONS FOR ADVAN NEOVA AD08RS:
The tyres were developed using high performance compounds which become brittle at low temperatures, and therefore should not be used in certain conditions. The tyres thus must be stored or used only at temperatures at or above 14°F (minus 10°C) to maintain performance characteristics and avoid any damage to the tyres or injury to persons or property.

This new tire offers a maximum grip for maximum pleasure!
Additional information
| | |
| --- | --- |
| Weight | 8 kg |
| Tire size Yokohama | 185/55R15, 185/60R14, 195/50R15, 195/50R16, 195/55R15, 205/45R16, 205/45R17, 205/50R15, 205/50R16, 205/55R16, 215/40R17, 215/45R16, 215/45R17, 225/35R19, 225/40R18, 225/45R16, 225/45R17, 225/45R18, 225/50R16, 235/35R19, 235/40R17, 235/40R18, 235/45R17, 245/40R17, 245/40R18, 245/45R18, 255/30R19, 255/35R18, 255/35R19, 255/40R17, 255/40R18, 265/35R18, 265/40R18 |
| Properties | Arguably the best Tire of the Market when Grip and durability are important to you! |
| Styles | |
| Road Legal in Switzerland | |