Yokohama ADVAN A052 Sports Tire
Yokohama's Street-legal And Track-ready Racing Tires
When you absolutely have to finish first, the competition-silencing ADVAN A052® is your one-way ticket to the podium.
This race-ready, extreme performance summer tire delivers physics-defying levels of grip, making a statement on the street and a standout on the track.
Applications
Semi-Slick with racing performance
Benefits
High sport performance on a dry track
Superior handling performance which is easy to control
Powerful cornering capability
The handling performance is easy to control
Preventing time-drop
Impressive grip on wet and dry surfaces
The street-legal tyre complies with European standard for rolling resistance
Features
Asymmetric tread pattern
High-rigidity tread pattern
Straight Thin Groove
Two Straight Grooves on the inner side
YOKOHAMA´s Sport Compound. Specially Developed for A052
HIGH-RIGIDITY TREAD RIB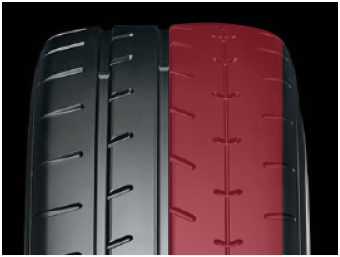 To increase the contact area on the outside, the 2 main grooves are moved to the inside. Delivering powerful cornering capability.
STRAIGHT THIN GROOVE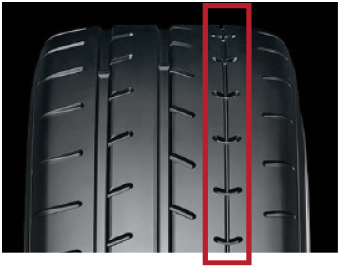 A straight thin groove is located on the outside of the tyre which is subject to higher pressure when cornering. Efficiently improves heat dissipation, preventing time-drop.
TWO STRAIGHT GROOVES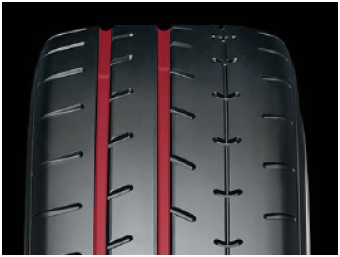 2 main straight grooves are located on the inside. Enhancing straight-line stability.
ADAPTED MOUND-PROFILE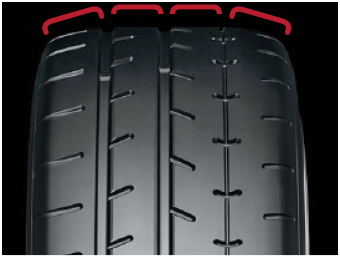 The adapted mound-profile controls the contact pressure of each block. ADVAN A052 is adapting the "Mound-Profile" as the ADVAN Sport V105.
Balancing wet performance with stability at high speed.
IMPORTANT CARE AND USAGE INSTRUCTIONS FOR ADVAN A052:
The tyres were developed using high performance compounds which become brittle at low temperatures, and therefore should not be used in certain conditions.
The tyres thus must be stored or used only at temperatures at or above 14°F (minus 10°C) to maintain performance characteristics and avoid any damage to the tyres or injury to persons or property.
Additional information
| | |
| --- | --- |
| Weight | 8 kg |
| Tire size Yokohama | 185/55R14, 185/60R13, 185/60R14, 195/45R16, 195/50R15, 195/50R16, 195/55R15, 205/40R17, 205/45R17, 205/50R15, 205/50R16, 205/55R16, 205/60R13, 215/40R17, 215/45R17, 225/35R18, 225/40R18, 225/45R16, 225/45R17, 225/50R15, 225/50R16, 235/35ZR19, 235/35ZR20, 235/40R18, 235/40ZR19, 235/45R17, 235/45R18, 245/30ZR20, 245/35ZR19, 245/35ZR20, 245/40R17, 245/40R18, 245/45R16, 255/35R18, 255/35ZR19, 255/40R17, 255/40R18, 255/40ZR20, 265/30R19, 265/30ZR20, 265/35R18, 265/35ZR19, 265/35ZR20, 265/40R18, 265/40ZR19, 265/45R18, 275/35ZR19, 275/40R18, 285/35ZR20, 295/30R18, 295/30R20, 295/35R18, 295/35R19, 315/30R18 |
| Properties | Arguably the best Tire of the Market when Grip and durability are important to you! |
| Styles | |
| Road Legal in Switzerland | |