WedsSport RN-05M Gloss Black
Premium WedsSport Racing wheels made in Japan!
Swiss homologation included.

WedsSport RN-05M is a classic, both in style and function. RN-05M features Weds' Double AMF manufacturing technology and advanced AIR-PLUS technology.
The Double AMF technique allows to reduce weight and increase strength on both front and rear rim barrel without having to add material, which translate to weight.
The AIR-PLUS innovation is directly inspired from our tests and uses in motorsport racing programs, where the wheel is capable of carrying more air volume while not only maintaining spoke rigidity, but even increasing it.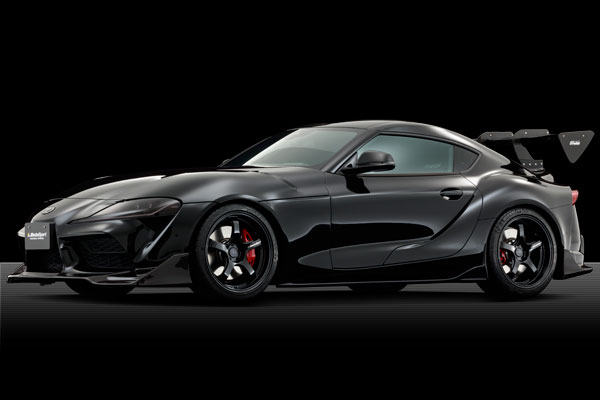 Each RN05M Include a special RN Flat Type Center Cap and Aluminum Valve Stem.
Color:  Gloss Black (GBK)
Diameters available: 18 inch
Widths available: 7.5 - 10.5inch
Made in Japan.
Additional information
| | |
| --- | --- |
| Weight | 8 kg |
| Wheel Size | 18x10j ET18, 5*114, 18x10j ET36, 5*114, 18×7.5J ET45, 5*114, 18×8.5J ET38, 5*114, 18×8.5J ET45, 5*100, 18×8.5J ET45, 5*114, 18×8.5J ET52, 5*114, 18x8J ET35, 5*114, 18x8J ET45, 5*114, 18×9.0J ET36, 5*114 , 18×9.0J ET45 5*114, 18×9.5j ET22, 5*114, 18×9.5j ET38, 5*114, 18×9.5j ET45, 5*100, 18×9.5j ET48, 5*114 , 18x9j ET20, 5*114, 19×10.5J ET22, 5*114 , 19×10.5J ET32, 5*114 , 19×8.0J ET45, 5*114 , 19×8.5J ET38, 5*114 , 19×8.5J ET45, 5*114 , 19×9.5J ET28, 5*114 , 19×9.5J ET38, 5*114 |
| Road Legal in Switzerland | |