Tomei Ti RACING TITANIUM MUFFLER for Z33/350Z
Tomei Dual-out racing exhaust for the true performance of 350Z Z33!
Dual-out racing exhaust for the true performance of Z!
Designed not to sacrifice ground clearance on lowered vehicles by the optimized piping layout.
The new design joint flange on the center pipe is narrowing-free design that makes true straight-through 80mm system without any restrictions when combined with the new Ti RACING Mid Y-Pipe!
PRODUCT INFO
| APPLICATION | P/N | CHF | NOTES |
| --- | --- | --- | --- |
| VQ35DE/HR Z33/350Z | 441004 | 2499CHF | ※FOR OFF ROAD USE ONLY. |
FEATURE / SPEC

 Ti RACING Titanium Exhaust series has been designed to improve total performance while reducing the sound as much as possible to meet the sound regulation at the tracks, while EXPREME Ti series has been designed just to unleash engine's true potential and improve the total performance.
ORIGINAL TITANIUM MATERIAL




To ensure and maintain reasonable price, supreme quality and stable supply, this product is made from TOMEI original titanium material which is refined from raw material and made into performance parts all under quality controlled environment.

END TIPS




Slash-cut, 120mm slide-able end tips can adjust the rear style to suite each bumper shape and preference.Titanium blue with laser marked TOMEI logo on the end tips.They together give it the great appearance and prove the best quality.

PRECISION WELDS




Titanium is known as a difficult material to weld.Its strength, long-life and beautiful appearance all prove the true quality.

MAIN MUFFLERS




Large muffler shells eliminates problem of sound issues at the tracks without reducing performance.Stamped TOMEI logo and gradation titanium color on the mirror finished mufflers.

HIGH QUALITY GLASS WOOL




Filled with even more glass wool comparing to existing EXPREME Ti series to reduce and tune the sound.High quality long filament glass wool is very durable and prevents aging deteriorations caused by continues high heat and high pressure.
KIT CONTENTS
MAIN PIPE A (1)

MAIN PIPE B (1)

MAIN SILENCER LH (1)

MAIN SILENCER RH (1)

END TIP (2)

SILENCER BAND LH (1)

SILENCER BAND RH (1)

SPRING (5)

GUSKET (1)

CLAMP BAND φ70 (2)

CLAMP BAND φ80 (1)

FLANGE NUT (2)

FLANGE BOLT (2)

BAND RUBBER (2)

BUTTON BOLT (4)

BOLT SMOOTH PASTE(1)

ALLEN KEY (1)
Mufflers set on each side after the split is the key to reduce the noise level while maintaining the best flowing efficiency.
The best matched pipe diameter that is proven by great amount of tries and errors increases the peak power without ruining the low-mid torque.
Ti RACING
STD

MATERIAL

TITANIUM

STAINLESS/STEEL

MAIN PIPE DIAMETER

Φ80S-Φ70W
Φ60.5

SUB SILENCER DIAMETER

Φ120.0

105×170 OVAL

MAIN SILENCER DIAMETER

Φ152

190x 340 W600 OVAL

PIPE THICKNESS

1mm
1.5mm

EXIT DIAMETER

Φ120.0
Φ101.0

EXIT STYLE

SLANT CUT / DUAL OUT

CURL TIP / DUAL OUT

FLANGE THICKNESS

8.0mm
8.0mm

EXHAUST TEST LEVELS

IDLING

:66.0db


4650RPM

:105.5db

IDLING

:61.0db


4650RPM

:86.0db

WEIGHT

10.2kg
21.0kg
BEST WITH Ti RACING MID Y-PIPE
True-straight 80mm exhaust system can be achieved by combining with the new Ti RACING Titanium Mid Y-Pipe that is designed to connect to Ti RACING Titanium Exhaust Muffler without any narrowing in the joint.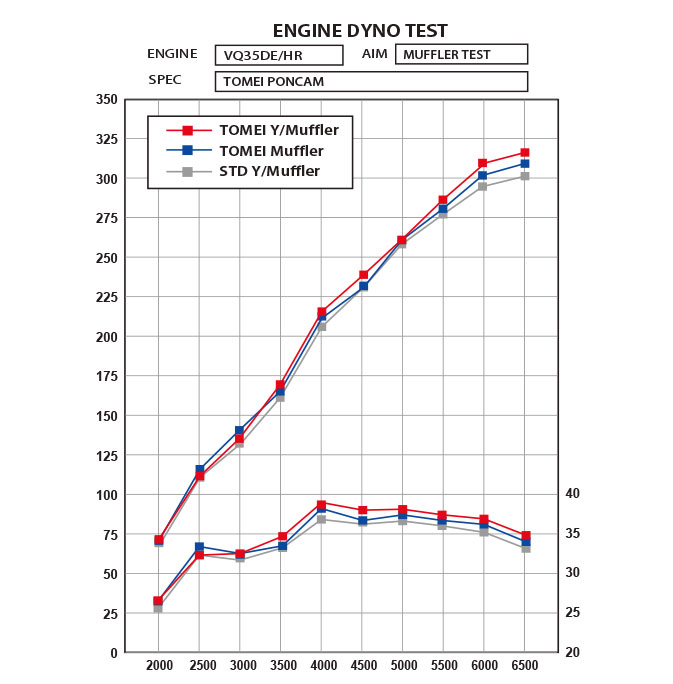 Additional information
| | |
| --- | --- |
| Weight | 15 kg |
| Tomei Exhaust | |
| Compatiblity | |
| Road Legal in Switzerland | |