Tomei ARMS T390M/T440M SINGLE SCROLL TURBINE KIT for Subaru EJ20 and EJ25
Tomei ARMS T390M/T440M SINGLE SCROLL TURBINE KIT for Subaru EJ20 and EJ25
Stable boost over the whole Powerband
The all new T390M turbo kit designed to best perform especially with EJ20 Single Scroll.
It comes with the same billet compressor wheel as the existing T440M turbo but covers wider range of different needs while the T440M turbo kit is mainly for tuned EJ25 and long-stroked EJ22/EJ26.
PRODUCT INFO
APPLICATION
TYPE
P/N
CHF
NOTES
EJ20/25 Single Scroll
※Please see the table below.
T390M
173034
2050CHF
・TOMEI Turbo Suction Hose is also required on Impreza (GD#) and Forester (SG#).
・GDB Inetrcooler Duct (Subaru P/N: 21830AA102) is also required to install this turbo kit on Impreza (GDA) or Forester (SG#).
・Can be installed also to GC8 / SF5 by upgrading the turbo suction hose to a product with ID: 60mm at the turbo side end.
T440M
173030
2050CHF
FEATURE / SPEC
【Application】
IMPREZA JDM
FORESTER
GC8
GDA
GDB
GR/GV
SF5
(STI MT)
SG5
SG9
A-G
AB
A-LINE
EJ207
EJ205
EJ207
EJ257
EJ205
EJ205
EJ255
IMPREZA USDM
WRX
GD 01-03
GD 04-05
GD 06-07
GR 08-
GV 11-
VA 15-
WRX
WRX
STI
STI
STI
STI
STI
EJ205
EJ205
EJ257
EJ257
EJ257
EJ257
EJ257
---
T390M

Well tuned low-mid torque that 2.0L engine can spool up smoothly to the high end range.
Stress-free and easy drivability from the street to sport driving on small tracks.

T440M

Dynamic power and torque at the mid-high RPM range.
T440M is designed for steady boost even at the high end range where the stock turbo of EJ application is known to fade from around 5,500RPM.
Steady boost at the high RPM range is an essential key for tuned EJ motor.
NEW HOUSING FOR MORE EFFICIENCY


Redeveloped from the material for more efficiency to convert the energy straight to power with better lubrication and cooling.
| | | |
| --- | --- | --- |
| | | |
| | | |
| High quality floating journal bearing at the center shaft. | | Remarkable stability under high boost. |
The ARMS series turbo kits all come supplied with all the required gaskets and fitting, no modifications required.
The T390M/T440M Turbo Kit comes with a 1 year limited warranty after purchase.
SPEC

| | TRIM | INNER DIA. | OUTER DIA. | BLADES |
| --- | --- | --- | --- | --- |
| ARMS T390M | 60 | 52.6 | 68.0 | 6/6 |
| ARMS T440M | 56 | 56.2 | 75.0 | 6/6 |

 The all new, forged aluminum billet compressor wheel increases even more efficiency and at the same time reduces surging that is one of the well known problems on tuning especially with AVCS applications.
| | TRIM | OUTER DIA. | EXIT DIA. | BLADES |
| --- | --- | --- | --- | --- |
| ARMS T390M | 76.9 | 56.0 | 49.1 | 12 |
| ARMS T440M | 77.4 | 61.5 | 54.1 | 11 |

DATA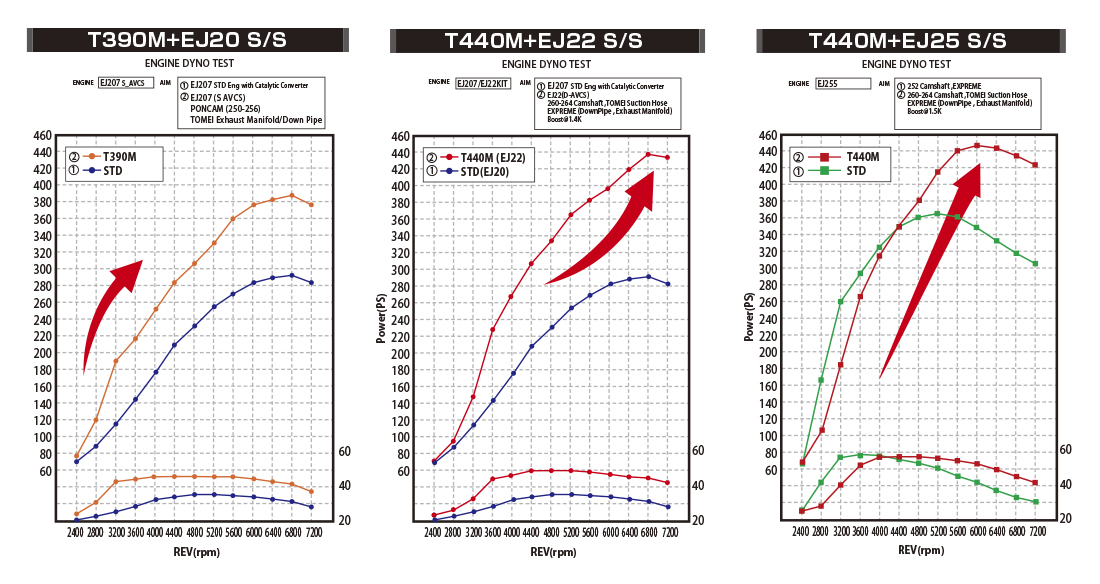 【T390M+EJ20 S/S】Superior balance of response and power
Well balanced for quick response from the low range to the top power at the high RPM range!
【T440M+EJ22 S/S】Outstanding peak power and performance
Simply for more power making the most of EJ22.The dynamic acceleration is like a beast.
【T440M+EJ25 S/S】Torquey and powerful
Fat and pushing torque with a whole different level of power from the large displacement.
Steady boost at all range
Quick spool eliminating turbo surging, superior smoothness straight up to the high end RPM range.
Additional information
| | |
| --- | --- |
| Weight | 15 kg |
| Tomei Turbine Kit | |
| Road Legal in Switzerland | |