Even to this day, TOMEI is listening to what our devoted SR user's requests. So we have invested additional time and funds into our continued efforts with R&D on the SR20 engine. All to improve torque, response, durable power for drivability to extract outstanding performance at an affordable range that is within everyone's budgets.
With the latest in our turbo developments, we have made various designs and have changed everything. From housings to actuators to the turbine blades, everything! All this from several master prototypes with added variations.
Finally this has produced the 2 models that we are releasing this month! More room for choices to suit your SR tuning options.
PRODUCT INFO
APPLICATION

TYPE

P/N

CHF

NOTES

SR20DET

M7960

173019

1736.30.- (Tax inc 1870.-)

M8270

173020
FEATURE / SPEC
| | | |
| --- | --- | --- |
| This model is designed for low to mid range torque characteristics. The response is immediate with the light use of the throttle. Max boost is achieved at 4000 RPM. Best suited for street tuned cars and weekend track machines. Great for drifting, and grip race applications, with the best driving characteristics. | | This model is designed for high power at high RPM. With full boost on the bench test at 4,500 RPM and will maintain it all the way to high RPM without dropping. This will best suit the dedicated track cars that need best power at high RPM. |
The ARMS series turbo kits all come supplied with all the required gaskets and fitting accessories for a true bolt on application out of the box. So it can be installed immediately without the need to hunt for other parts.


A Floating Bearing (Journal Bearing) was adopted for use on the shaft.
| | |
| --- | --- |
| | The ARMS SR M8270/7960 Turbine Kits come with a 1 year limited warranty after the product has been registered with Tomei Powered shortly after purchase. |



| | TYPE | TRIM | INNER DIA. | OUTER DIA. | BLADES |
| --- | --- | --- | --- | --- | --- |
| PS13 STD | – | – | 43.4 | 56.0 | – |
| S14/15 STD | – | – | 46.6 | 60.1 | – |
| ARMS M7960 | 60 | 60 | 52.6 | 68.0 | 6/6 |
| ARMS M8270 | 70 | 60 | 59.0 | 76.2 | 6/6 |
| | TYPE | TRIM | OUTER DIA. | EXIT DIA. | BLADES |
| --- | --- | --- | --- | --- | --- |
| PS13 STD | – | – | 53.8 | 42.4 | – |
| S14/15 STD | – | – | 53.8 | 47.4 | – |
| ARMS M7960 | 79 | 78 | 61.0 | 54.0 | 11 |
| ARMS M8270 | 82 | 77 | 67.0 | 58.8 | 11 |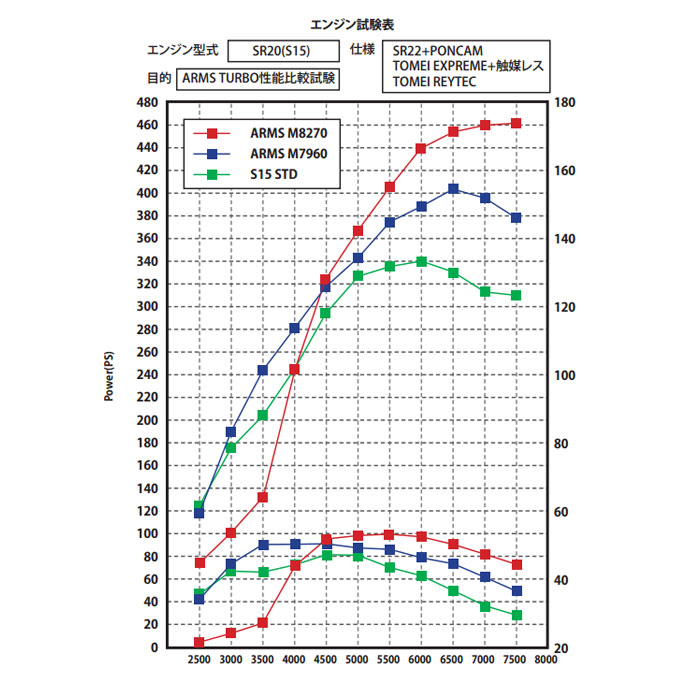 Additional information
| | |
| --- | --- |
| Weight | 15 kg |
| Tomei Turbine Kit | |
| | |
| | |
| | |
| Compatiblity | |
| Road Legal in Switzerland | |