RS-R Sport☆i for Toyota Chaser, Cresta, Mark II
RS-R Sport☆i for Toyota Chaser, Cresta, Mark II
Sports*i

■Concept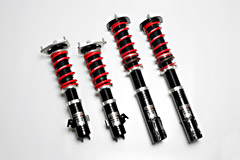 The Sports*i coilover is designed and developed for sports driving. It will produce the stable ride feeling at the winding and circuit.
With its basic performance and a wide range of settings that will cover various situations, it gives quick handling and stable ride at the corner.
The option is available for some models to change a rubber bush upper mount to a pillow ball mount. For details please refer to Option on the bottom of the page.
■Overhaul
This product can be overhauled as all parts are purely made in Japan and assembled in our own factory. We would like you to use it at the best ride feeling for a long time.
■Suspension for coilover
■Feature
 ・Damping force adjustment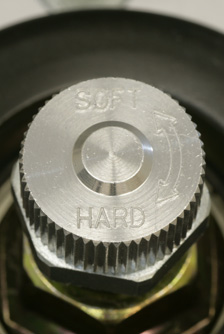 Adjusting the damping force enables you to change the detailed feature of shock absorber such as traction and ride feeling. The Sports*i coilover has a wide range of settings that cover from winding to circuit. Unique needle system with 36 levels of adjustment gives you to feel one click change and provides the best ride feeling that driver is looking for (24 levels for some models).
 ・Mono-tube internal piston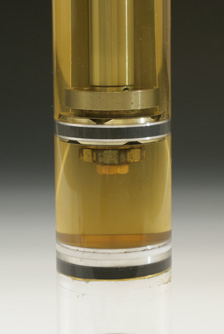 The mono-tube piston relieves discomfort from push up due to its unique design. The steel body has an internal diameter of 40φ(Strut type vehicles are 46φ) which is utilized for increasing oil capacity and improving heat dissipation. Due to its large diameter, the valving shims can be fitted with each vehicle type.
 ・Damper specification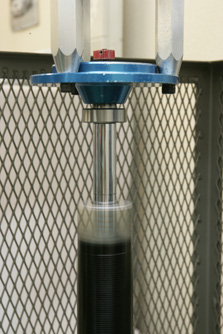 The ideal damping force differs among vehicles and it is an important factor in coilover performance. To find the ideal damping force for each vehicle, we consider not only damping force but also the stroke rate for both rebound and compression giving improved handling on the track or on winding roads.
Various tests have been done, RS*R's original damper specification ensures the maximum comfort for driver and passengers in all driving situations.
 ・Oil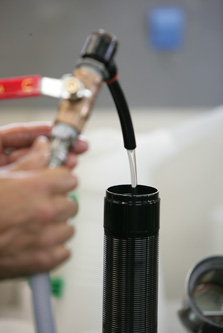 The quality of the oil used in coilovers is extremely important due to the intense heat generated by the movement of the pistons. If the oil gets too hot it will affect damping force and in turn affect handling and driving stability. We use a top grade oil that not only is highly heat resistant but also gives the perfect viscosity (or thickness) for the damping specifications of each coilover.
 ・The Ti2000 spring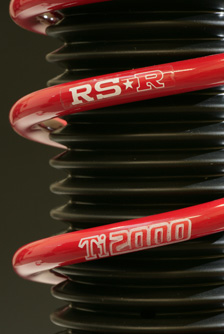 The Sports*i uses TMC's best selling coil spring 'Ti2000' which is an extremely lightweight and durable spring. The Ti2000 comes with spring rate option from our range to cover a variety of situations, ride height and settings.
 ・Helper spring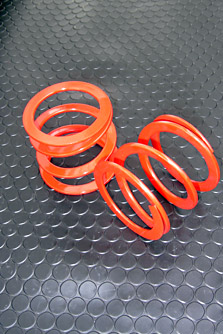 We have the helper spring for some models to ensure more strokes. As a result, it improves the tire tread and transfers the input from the road correctly to the driver. It also improves the drivability.
 ・Upper mount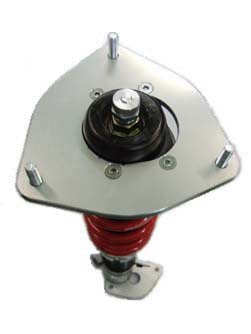 The Sports*i coilover kit uses the combination of a steel plate and a rubber bush upper mount to minimize noise and friction. While the rubber bush upper mount gives a more comfortable and quieter ride, the pillow ball upper mount is also available to give quicker steering response and sharper cornering (except for some models). Strut type vehicles come with a camber adjustment system (except for some models).
■Option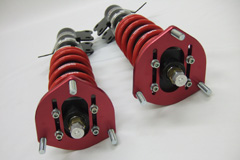 Pillow ball upper mount is available for more sports driving.
Pillow ball upper mount will give more solid steering and reduce the alignment change. NMB pillow ball is used for the pillow mount which will give higher usability for the drivers. We also use strong aluminum for the upper-mount plate.
Moreover, camber setting for some models can be adjusted.
The Sports*i pillow upper-mount type gives you a steering which is directly inspired by sensitivity.
*No warranty for the pillow upper-mount type, as it would cause the noise and vibration due to its structure. We recommend changing pillow ball at fixed intervals as it is a consumable item.
Additional information
| | |
| --- | --- |
| Weight | 20 kg |
| | |
| | |
| | |
| Compatiblity | |
| Road Legal in Switzerland | |