RS-R Lowering Springs: Ti2000 DOWN Nissan GT-R R35 2009+
Titanium Lowering Springs by RSR. Made in Japan. Including Swiss homologation.
Ti2000 DOWN Lowering Springs made with light-weight Titanium by RSR. Made in Japan.
E: Including Swiss homologation.
F: Homologation Suisse incluse
D: Inklusive Schweizer Zulassung
Specifications:
Approximate Drop/lowering:
Front -25mm to -20mm
Rear -25mm to -20mm
Spring Rates:
Front 16.6kg/mm
Rear 8.57kg/mm

The RS-R Down Sus Lowering Springs provides a mild drop and improved handling for drivers who are looking to lessen the fender to wheel gap. Taking into consideration the factory suspension geometry, shock dampening, spring rate and ride height levels, RS-R ensures that the springs you are getting were made for your car both for performance and for comfort.
Note: Check the pictures to see what your car will look like once installed (if picture available).
・Ti2000 series
The Titanium alloy we use in manufacturing is ideal for suspension kits and is extremely durable. The material is of the highest quality (and comes with an unlimited guarantee.)
The Ti2000 gives the driver the maximum drop in ride height without compromising riding comfort. The driver will notice the difference.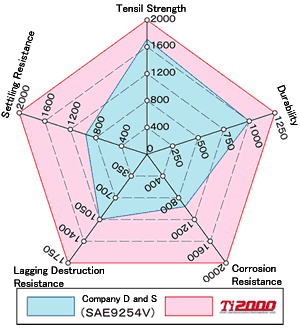 Due to the new materials used in Ti2000 we have been able to make a highly durable suspension coil with a smaller diameter and less spring coils. Because of this it has become possible to reduce the weight by more than 2kg. For example for the standard suspension used in the Altezza SXE10, four coils have a weight of 9.3594kg whereas four Ti2000 coils weigh only 7.0398kg. That is a 2.3196kg or 24.7% difference in weight.This reduction makes a noticable difference in driving performance.
Additional information
| | |
| --- | --- |
| Weight | 15 kg |
| Compatiblity | |
| Road Legal in Switzerland | |