After 22 years of the RB26 first debut. The impression left has lead many people are still enjoying tuning. At TOMEI, we wanted to see more users enjoy tuning their engines, so we continued development on new products. During the development process, with such diverse testing of housings, turbine wheels, and actuators was completed both on the engine bench Dyno and on actual use on a vehicle. The usual surging that is common with twin Turbos was suppressed. The right turbo design was made that will spool all the way up to high rpm as intended for the RB26 was completed. Up until now, when aiming for higher output power of more than 600ps, larger modifications were needed to the exhaust manifold for an additional waste gate, which also increased costs. But now, this turbo kit is compatible with the stock exhaust manifold, and it is a 100% true bolt-on application that can potentially deliver more than 650ps (M8260).
PRODUCT INFO
APPLICATION

TYPE

P/N

CHF

NOTES

BNR32




BCNR33




BNR34




WGNC34

M7655

173021

3138.34.- (Tax inc 3380.00.-)

M8260

173022
FEATURE / SPEC
| | | |
| --- | --- | --- |
| Without losing mid range speed transient characteristics, the boost will reach the 4500rpm range with ease. Even from there, it can suddenly spool up to higher rpm range without losing boost. Delivers vicious acceleration that is what RB26 owners want to have. | | This is the largest size bolt-on turbo for this output characteristics at engine speeds. Reaches full boost at around 5000rpm at somewhat higher range, but from there achieves fierce acceleration with the output characteristics that almost makes you forget that it is a bolt-on turbo. |
| | |
| --- | --- |
| | The ARMS series turbo kits all come supplied with all the required gaskets and fitting accessories for a true bolt on application out of the box. So it can be installed immediately without the need to hunt for other parts. |


A Floating Bearing (Journal Bearing) was adopted for use on the shaft.
| | |
| --- | --- |
| | The ARMS RB26 M7655/8260 Turbine Kits come with a 1 year limited warranty after the product has been registered with Tomei Powered shortly after purchase. |



TYPE

TRIM

INNER DIA.

OUTER DIA.

BLADES

BNR34 STD

–

–

APPROX

39.6

APPROX

56.1

6/6

BCNR33 N1

–

–

APPROX

42.6

APPROX

60.1

6/6

ARMS M7655

55

55

50.3

68.0

6/6

ARMS M8260

60

60

52.6

76.2

6/6
TYPE

TRIM

OUTER DIA.

EXIT DIA.

BLADES

BNR34 STD

–

–

APPROX

50.5

APPROX

42.0

9

BCNR33 N1

–

–

APPROX

50.6

APPROX

41.8

11

ARMS M7655

76

72

56.0

47.5

12

ARMS M8260

82

77

67.0

58.5

11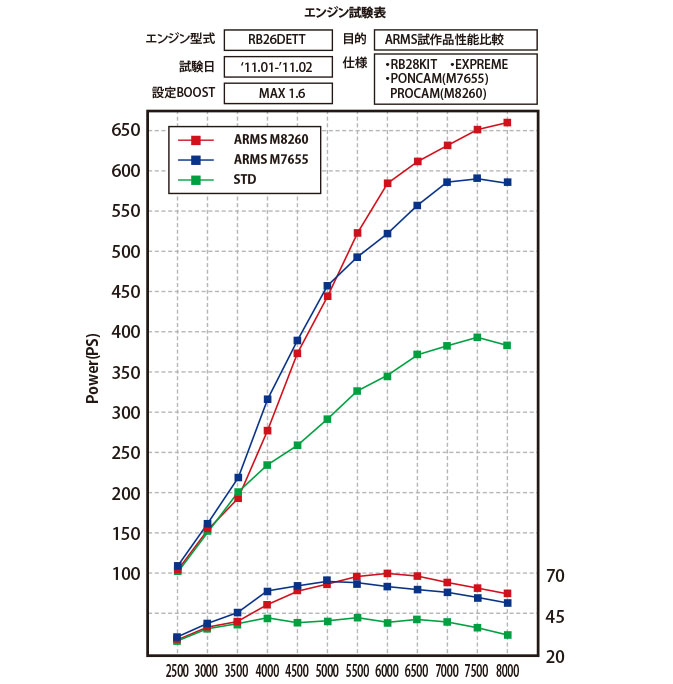 When driving the car on the street, at times the stock turbo can produce unpleasant surging at higher speeds. We have designed our Turbos specifically for the application to resolve this matter.
MAINTAINING POWER AT HIGHER TUNING
With the stock displacement, you can expect to see good power from 6500rpm and higher. But with the increase in the engines displacement, even more potential gains are possible.
Additional information
| | |
| --- | --- |
| Weight | 30 kg |
| Tomei Turbine Kit | |
| Road Legal in Switzerland | |