REPLACEMENT BELT FOR COMPRESSOR KIT
SUPERCHARGER HKS V2 FOR GT86 & BRZ
3 in stock (can be backordered)
HKS Fine Tune V-Belt for GT86 & BRZ
CYLINDER HEAD COMPONENTS
The Engine compartment dress-up part; "Fine Tune V Belt."
Latest technology protects vehicles' conditions while improving engine compartment appearance.
Features
Using the latest in belt technology gives the following benefits:
Increased durability at high temperatures which can be found in the engine bay of tuned vehicles.
Increased performance in cold weather and condition.
Lightweight and good friction tolerance properties which means that excess tension is not required while anti-sound properties reduces belt squeal.
※Back face is blue colored with HKS logo.
Blue is used in HKS intake hose which is for coordination in the whole engine bay.
Colored nylon fabric used for good anti color-fading properties.
HKS logo, product name, and belt length are printed on each belt.
Performance
EPDM (Ethylene Propylene Diene Monomer) Rubber was selected because of:
Better durability and performance in hotter or colder conditions with improved friction tolerance.
Much lighter than previous version of belt.
Short fiber mixture in rib rubber improves the performance over previous version.
Specification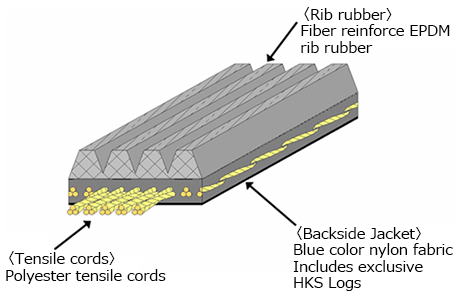 Performance Comparison with Stock Belt
| Hight Temperature Durability | Low Temperature Durability | Abrasion Resistance | Weight | Noise |
| --- | --- | --- | --- | --- |
| 4 times greater | 10 times greater | 30% improved | 17% lighter | Less |
Button bolts were installed to 24996-AK012 (5PK875) and 24996-AK013 (5PK885) during the test.
When using these 2 belts above, a stock V belt may come in contact with a stock alternator adjustment bolt due to an insufficient clearance between them.
Using the provided button bolts can prevent abrasion of the V belt.
Specifications:
SKU: 24996-AK032
Compatibility: Toyota GT86, Subaru BRZ
HKS V-Belt 86/BRZ GT S/C V2 (6PK2110)
Additional information
| | |
| --- | --- |
| Weight | 0.25 kg |
| | |
| Compatiblity | |