BC-Racing Suspension BR type RA For Nissan
Incl. Swiss homologation and FAKT
for top mounts (if applicable)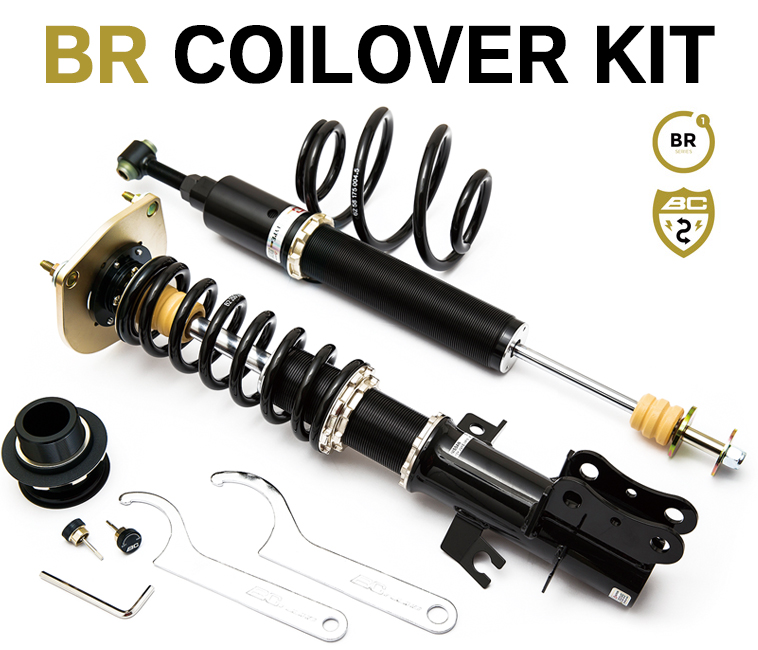 BC-Racing BR Coilover Kit is a multi-model vehicle height adjustment coil over kit that can be used for both street and sports driving.
By adopting the bracket adjustment function, the stroke shortage that tends to occur during lowdown is eliminated, and the
single-cylinder shock absorber demonstrates stable damping force during sports driving.
In addition, by adopting a 30-step adjustment function, a coil over feeling that suits your taste is realized.
Single cylinder type shock absorber
Bracket height adjustment function
30-step damping force adjustment (adjustment dial included)
Includes bump rubber, dust boots, and a dedicated wrench for height adjustment
A bevel edge lock ring method is used for the strut type.
Includes upper seat with bearings (strut type front)
Spring rate can be changed
Additional information
| | |
| --- | --- |
| Weight | 25 kg |
| Model | 200SX Silvia 240SX S14, 240Z (51mm) (Weld In) S30 70-73, Alitma/Maxima L32/A35 07-12, Altima/Maxima L31/A34 02-06, Blue Bird G11 05-12, Cedric/Gloria (W/Spindle) Y33 95-99, Cedric/Gloria (W/Spindle) Y34 99-04, Cefiro/MAXIMA A32 95-99, Cefiro/Maxima A33 00-04, Cima (W/Spindle) F50 01-10, Crossover 370GT 2WD J50 07+, Crossover370 GT-Four NJ50, Fairlady Z/300ZX Z32 89-00, Fairlady Z/350Z Z33 03-09, Fairlady Z/370Z (Rear Integrated) Z34 08+, Fairlady Z/370Z Z34 08+, FairladyZ/350Z (Rear Integrated) Z33 03-09, Fuga Y51 09+, Grand Livina L10/L11 06+, Juke 4WD NF15 10+, Juke YF15 2010+, laurel AWD GNC34 93-97, Laurel C35 97-02, Livina L10/L11 06-13, March AK11 93-02, Pulsar GTIR AWD RNN14 91-95, R31 (Aus Spec) (W/O Spindle) R31 85-87, R32 GTR/GTS-4 BNR32/HNR32 89-94, R33 GTS-4/R34 GT-4 ENR33/34 93-00, S12 S12 83-88, Sentra B13/N14 91-95, Sentra B14/N15 95-99, Sentra B16 06-12, Sentra B17 10+, Sentra/Sunny N16/B15 00-06, Silvia 240SX A31/S13 89-94, Silvia 240SX S15 99-02, Skyline 200GT-t ZV37 14+, Skyline 250GT Four NV36 06-14, Skyline HV37 2014+, Skyline R32 GTS HCR32 89-94, Skyline R33 GTS ECR33 93-98, Skyline R33/34 GTR BCNR33/BNR34 95-01, Skyline R34 GTS (rear eye) ER34 98-01, Skyline R34 GTS(rearfork) ER34 98-01, Skyline R35 GT-R R35 07+, Stagea 2WD M35 01-07 01-07, Stagea 2WD WGC34 96-01, Stagea AWD (rear eye) WGN34 96-01, Stagea AWD (rear fork) WGN34 96-01, Stagea AWD NM35 01-07, Teana J32 09-13, TIIDA C11 04-12, TIIDA C12 11+ |
| Road Legal in Switzerland | |