ARMS M8280 TURBINE KIT for 1JZ-GTE
TURBO CHARGER
After passing all the extensive extreme testing phases, the long awaited 1JZ turbo is now here! Each component from the turbine, compressor & the center housing has all been designed to deliver the best all round balance of performance. This Turbo comes complete with the special Tomei compressor housing as well as our special Forged Billet Blue Actuator. Both the Torque & Power gains characteristics were made possible from the extensive amount of R&D and testing time that we have invested with the design process. Each component was optimized, without compromise. Completely designed specifically for the 1JZ engine. Designed to deliver great performance for all kinds of conditions, Street, Track and Drift, for an all round "Fun" Performance Turbo Kit.
PRODUCT INFO
APPLICATION

TYPE

P/N

CHF

NOTES

1JZ-GTE

JZX100 / JZX110 / JZX110W
JZZ30 Late Model / JZS171 / JZS171W

M8280

173025

1829.15 (Tax inc 1970.-)
FEATURE / SPEC
The ARMS series turbo kits all come supplied with all the required gaskets and fitting accessories for a true bolt on application out of the box. So it can be installed immediately without the need to hunt for other parts.


A Floating Bearing (Journal Bearing) was adopted for use on the shaft.
| | |
| --- | --- |
| | The ARMS 1JZ M8280 Turbine Kits come with a 1 year limited warranty after the product has been registered with Tomei Powered shortly after purchase. |


| | TYPE | TRIM | INNER DIA. | OUTER DIA. | BLADES |
| --- | --- | --- | --- | --- | --- |
| 1JZ-GTE STD | – | 50 | 46.0 | 65.0 | 5/5 |
| ARMS M8280 | 80 | 56 | 61.4 | 82.0 | 6/6 |
| | TYPE | TRIM | OUTER DIA. | EXIT DIA. | BLADES |
| --- | --- | --- | --- | --- | --- |
| 1JZ-GTE STD | – | 64– | 60.0 | 48.0 | 10 |
| ARMS M8280 | 82 | 77 | 67.0 | 58.8 | 11 |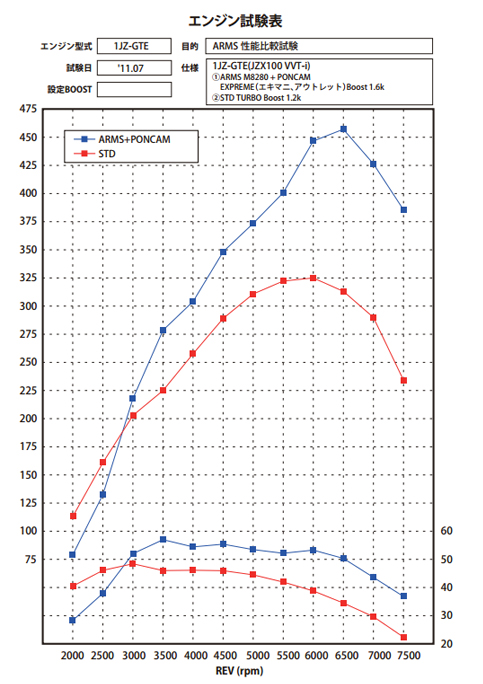 Additional information
| | |
| --- | --- |
| Weight | 15 kg |
| Tomei Turbine Kit | |
| Road Legal in Switzerland | |