Wedssport Revline Racing Braided brakes lines for Toyota Corolla or Sprinter AE86
Racing braides Brakes Lines by Wedssport for your car with Swiss homologation documents.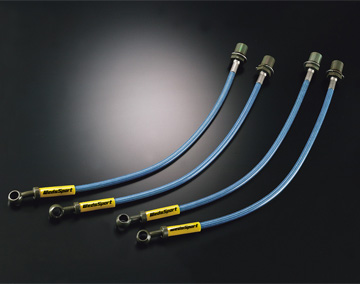 High quality Made in Japan Brake hoses for more than 150 different cars!
We also carry a wide range of Clutch line hoses.
Ask us if you don't find your car! Contact-us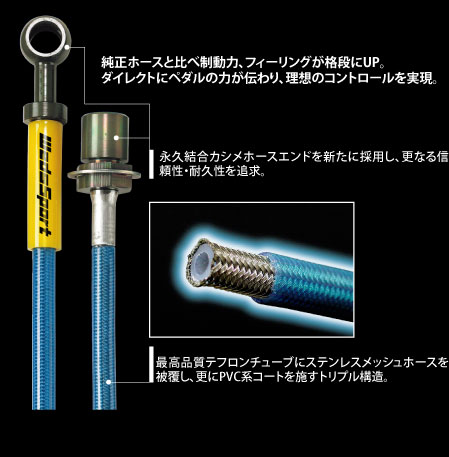 Wedssport Revline Brake Line Kits are constructed from the finest quality hose, consisting of a PTFE inner and stainless steel overbraid. Replacing OE brake lines with -03 PTFE hose improves brake feel over factory lines, eliminates sponginess, and provides shorter stopping distances and consistent braking in performance applications.
The shorter stopping distances and improved pedal response provide safety features as well as performance advantages. When used with an ABS braking system they virtually eliminate brake pedal "chatter".

Regular Rubber Hose                         Wedssport Reveline Braided Brake Hose
Due to its Rubber carcass, when            With a metal braided carcass there is hardly any
Pushing on the pedal, the hose              expansion. This provides very direct pedal feel,
expands and prevents "direct"               even under high temperatures. The braided hose
response to the brake caliper.               also helps to cool the brake fluid near the caliper.
Features
Performance Enhancement & Safety Improvement
Eliminates Sponginess Under Braking
Increases Braking Efficiency
Abrasion and Corossion Resistent

Wedssport also caries many clutch line hose kits for various vehicles such as Toyota, Nissan, Honda, Mitsubishi, Mazda, Subaru, Suzuki, Daihatsu...
Ask us if you don't find your car! Contact-us
Additional information
| | |
| --- | --- |
| Weight | 3 kg |
| | |
| | |
| Compatiblity | |
| Road Legal in Switzerland | |